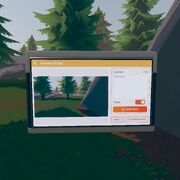 The camera is available in the Profile Menu of your Watch Menu: grab it with your other hand by moving the controller close to the camera and pulling the trigger. It is also available with via the Expresso system and with a particular hand gesture.
The camera allows you to take pictures anywhere in Rec Room using either a front- or rear-facing camera. Pictures taken by the camera can be uploaded to rec.net or printed virtually. You can also set the picture as your profile picture.
Printing pictures will make a small virtual object that will stick to surfaces it's placed on, and will be saved in custom rooms.
When using a camera, you will be met by two special options. A tripod option which will freeze the camera midair when you drop it, and a timer which activates a countdown of 3 seconds when you take a picture.
New camera features that were added in the rec.net update:
Tripod feature that allows you to freeze the camera midair by dropping it
Camera is now linked to rec.net, which allows you to easily share and save photos.